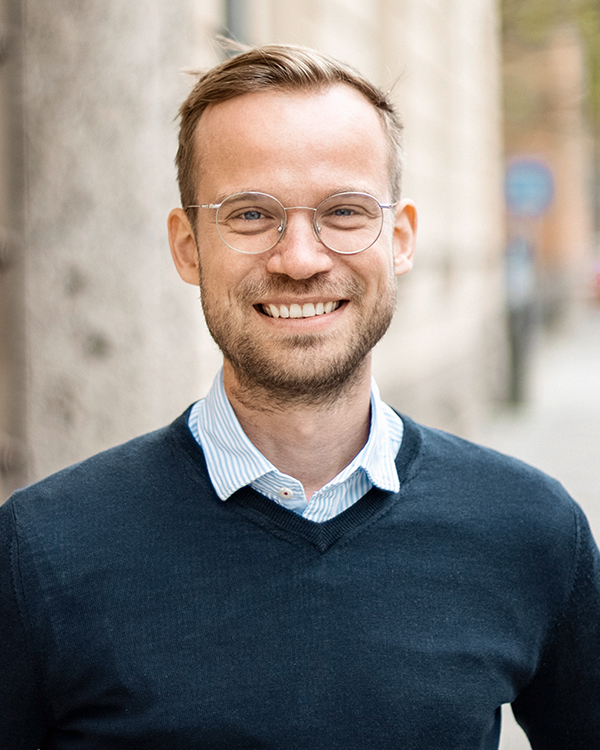 For the 19th year in a row, PwC, together with the "Urban Land Institute", surveyed decision-makers in the real estate industry, the investment sector and in financing on the most important developments and current trends in real estate.
We looked at the results in the annual report and here is what Leo thinks will be important in 2022.
Coros is about to open an office in London and at the same time London is in first place in PwC's latest Emerging Trends Survey. Perfect timing, right?
Of course, the opening of our London office comes at an ideal time to capitalise on the opportunities we have been seeing in the market and we are really excited to grow our international business. We are a long-term investor and have been analysing the London markets for some time now and have conviction in the city's continued resilience which is reflected in PwC's study. Whilst last year London was in second place behind Berlin, it has now achieved the top spot. The study confirms our view that both cities are particularly inspiring and exciting. London and Berlin are constantly reinventing themselves and simultaneously benefiting from strong demographic and urban trends. They offer enormous investment potential - as does Paris, which placed third this year.
What makes London so attractive in your opinion?
London is exciting due to its diversity as both a global financial centre as well as a leading tech hub and life sciences cluster, which has experienced significant growth over the last few years. In addition, the city combines a long historical heritage with diverse cultural and educational offerings. Even after the Brexit turmoil, we feel that the people in London have an optimistic outlook. Whilst we have experienced some negative sentiment over the last few years with regards to London's position and outlook, we see a different reality at Coros.
Another crucial point is the important transformation of the industry towards sustainability. The UK has some of the most progressive legislation in the commercial real estate sector, such as in the case of building restorations and green refurbishments. London specifically is one of the global leaders in implementing ESG criteria, with around 3,000 buildings with sustainable certifications. In London, we are now sitting right on the pulse of new ideas and innovation. Our projects and stakeholders in other core European markets will benefit from this expertise.
Besides London and Berlin - where do you see other investment hotspots in Europe?
It is exciting that the five cities we are focusing on are within the top 10 of PwC's study - and not just this year, but in previous years as well. In addition to London and Berlin, we see Munich, Paris and Madrid in particular as exciting locations that are setting trends; cities which we are successfully invested in.
These locations have very good demographic and economic fundamentals. In addition, they have convincing cultural, leisure and educational offerings. The pandemic did not reverse this trend but underlined the resilience of these cities. We are convinced that they will be long-term winners and will further emerge into a league of their own in the future.
We therefore see urban potential in these locations and a resulting long-term high demand for sustainable and urban mixed-use real estate, both from an investment perspective as well as from a lending and occupational perspective. After all, the real estate industry is currently undergoing a comprehensive transformation - and only these mixed-use properties will be future-proof.
You mentioned the topic of sustainability: Many real estate managers now state that the importance of sustainability and good ESG performance has become more important in their investment strategies during the pandemic - but at the same time also posing one of the biggest challenges. How do you navigate this?
As a fairly young company, sustainability and the environmental and social impact of our projects are issues that are close to our hearts. The fact that their significance has received an additional boost is an important and necessary development for the good of the industry to set a new standard. After all, the real estate sector is one of the largest producers of greenhouse gases. According to PwC's and ULI's survey, many managers now include a "brown discount" in their investment strategies - this shows that the topic is no longer just a label.
Climate-neutral housing and ESG factors have already become critical aspects in any purchasing or rental decisions. We are seeing that, especially from the tenant side, the sustainability of spaces has become an important factor when looking for property, commonly due to regulatory requirements or as part of company profile and targets. At the same time, social aspects such as well-being have become increasingly important. As a result, the demand for green mixed-use real estate will increase significantly – however, the supply in the new construction segment cannot keep pace. This opens great opportunities for green refurbishments, especially in those locations that made it into the top 10 in the current survey.
Do you prefer refurbishments to new construction?
As we aim for a climate-neutral real estate sector, we cannot avoid existing building stock. At present, existing buildings only partially fulfil sustainable criteria, such as regulatory requirements regarding energy balance or greenhouse gas emissions. Even if new construction with sustainable building materials is justified, the re-use and redesign of existing buildings should always be preferred to complete demolition due to a better energy balance.
With our intensive "manage-to-core" approach, we are very well positioned for this. We aim to use this precise potential and make it accessible to our stakeholders. Therefore, smart concepts and an attractive urban mixed-use that also meets the approval and acceptance in the urban communities is needed. This requires intelligent planning and intensive work during implementation but is being rewarded by more and more investors, which is paying off in the long term due to a high potential for subsequent use.
It is clear that the implementation of sustainable mixed-use real estate is complex, for which investors need the right partners at their side. Not only must the focus be on environmental criteria such as energy efficiency or carbon emissions but also the social impact of a property on its neighbourhood during the planning process and later in asset management. Only when a project fits into its local surrounding and is accepted by communities does it also function sustainably in the long term.